White Oak House
6 Eddy Road
Buskirk, NY 12028
T: 917-533-4141
whiteoakhouse@gmail.com
Directions
Directions to the house provided by some navigational systems offer routes over poorly maintained roads. Please follow the detailed directions to avoid misadventures! Visit the Directions page for a local map and detailed directions.
About the Owner
I am an artist who settled in Buskirk (northern Rensselaer County) in the early 1970s. I was drawn to this area by the beauty of its historic farmsteads and its open space. Over the years I became involved in conserving agricultural land and the rural landscape.
The fields surrounding the White Oak House are owned by me and have all been conserved (meaning that they can only be used for agriculture but can never be subdivided and developed).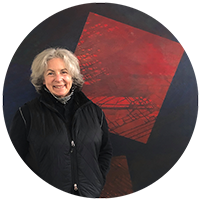 Constance Kheel
Property Owner & Manager
Property Inquiry
For booking assistance or questions, call Constance Kheel at 917-533-4141 or send a note.
Make a Payment for Rental