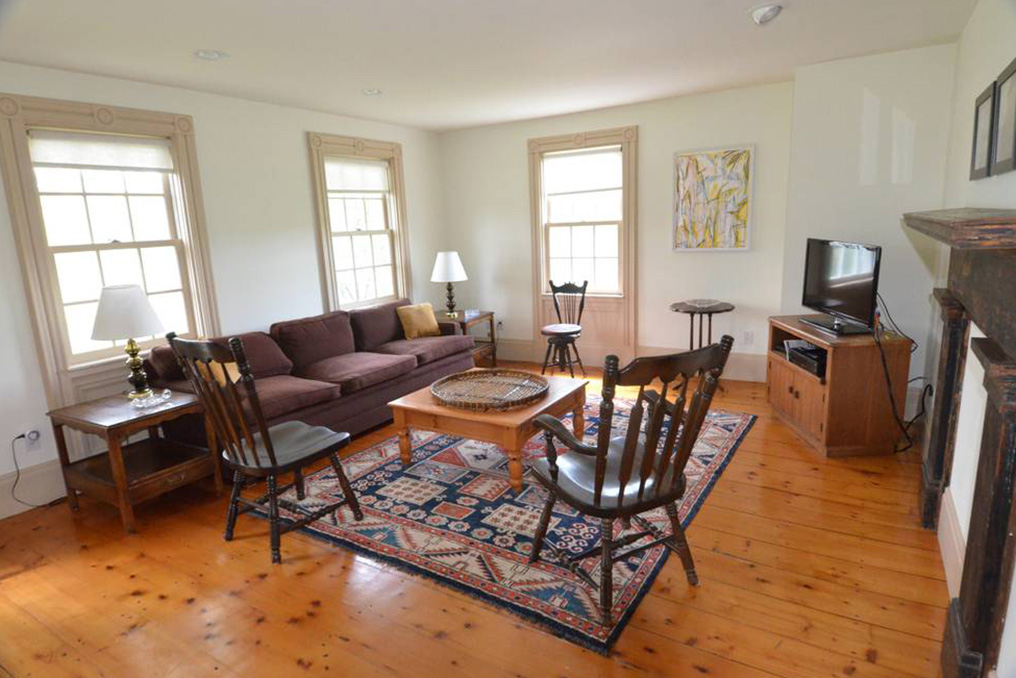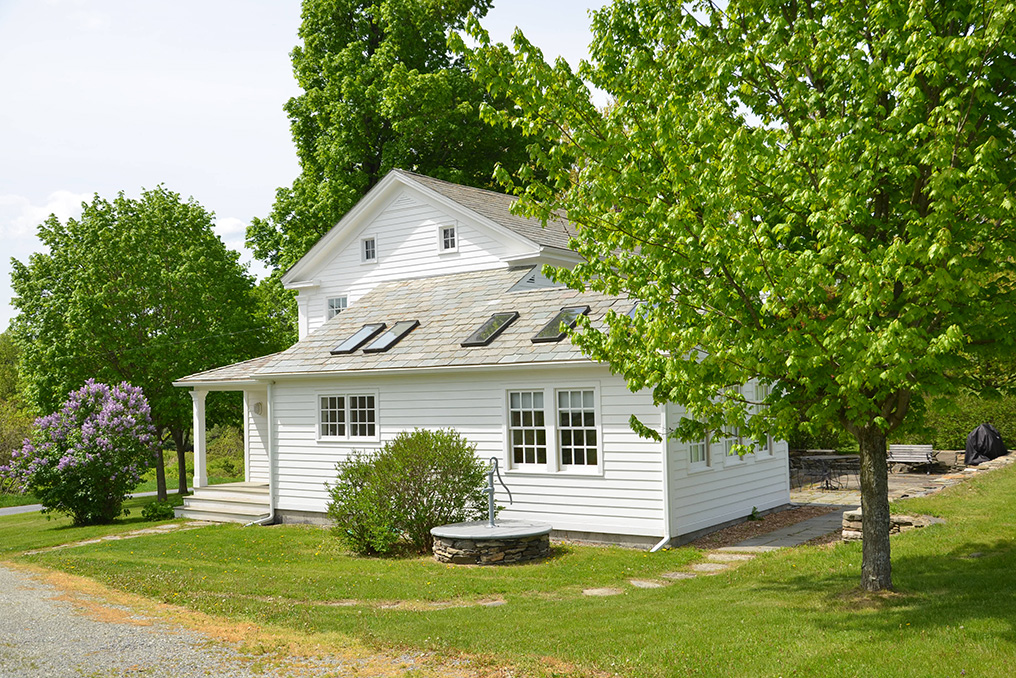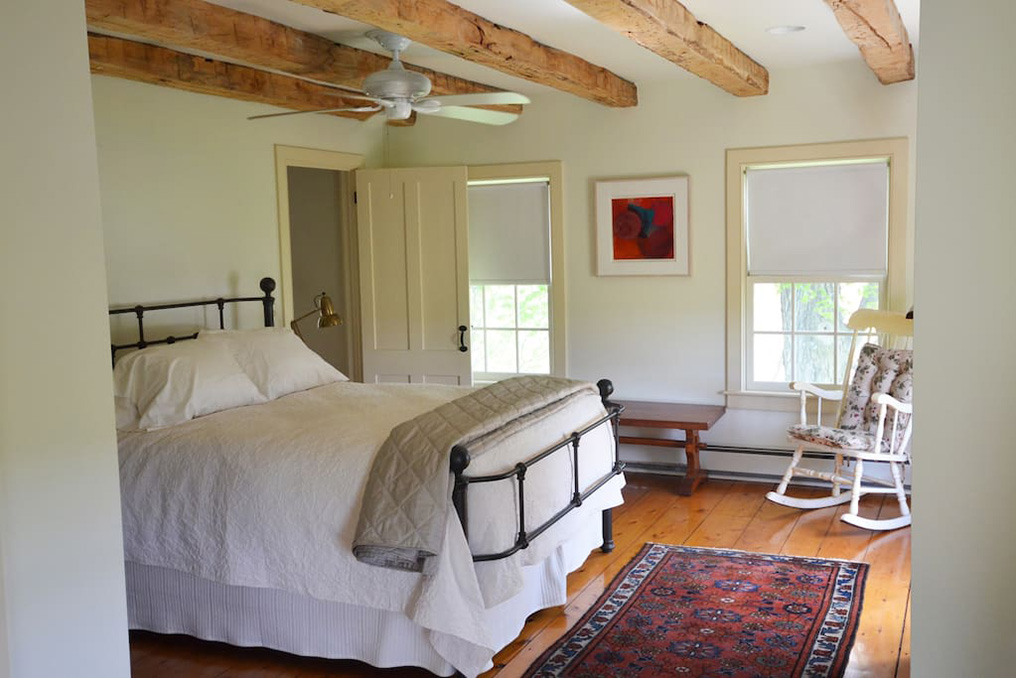 Overview
The White Oak House is a charming, Greek Revival farmhouse named after the astonishingly large white oak tree located in a far corner of the property. Its peaceful setting offers stunning agricultural views.
The house has been fully restored to reflect its historic character and furnished with country casual antiques. Every room is tastefully decorated with oriental rugs and art work. Hand-hewn ceiling beams, set every few feet, are visible in all the room upstairs. Numerous windows infuse the house with natural light and feature views of farmland, the Blue Stone Patio and the Barns surrounding the house.

Kitchen
The sunlit Kitchen, fully stocked with all the necessary appliances, cooking utensils and dinnerware, has a center island and an old-fashioned, walk-in Pantry. Non-perishable staples such as coffee, tea, salt and pepper are provided.
Dining
A spacious formal Dining Room featuring eight Windsor chairs and a long, cherry table is a pleasurable place to enjoy meals.
Bathrooms
Two full baths—Downstairs full bath includes a claw-foot tub and hand-held shower; Upstairs full bath features a combination shower/tub
Bedrooms
Sleeps up to five—West Bedroom with wide plank doors has a queen bed and closet; East Bedroom has two twin beds and two closets; Den has twin sofa bed

General
The expansive Sunroom overlooking the backyard has a brick floor, high ceilings, skylights and hand-hewn wood beams. It is furnished with a round table for meals and snacks, a sofa and a roll top desk. The Living Room is equipped with a large sofa and TV. The Den can be used as an office space and/or an extra bedroom with its twin sofa bed. 
Essential Amenities
Towels; Bed linens; Extra pillows and blankets; Soap; Shampoo and conditioner; Toilet paper; Iron; Hair dryer; Telephone; Washer and dryer; Heating; Air conditioning in all rooms except the Dining Room; Fans; Baby gate
Media
Wifi; High speed internet service is provided by Verizon FIOS; Streaming on Netflix, Hulu and some other sites are included in the rental; Widescreen TV installed in the Living Room
Grounds & Use
The entire house, Chicken Barn, Garage and expansive mowed area surrounding the house are all included in the rental. Enclosed by a stone wall, a Blue Stone Patio is a private space equipped with a table, chairs and gas grill. The Chicken Barn is set up as a Game Room with a ping-pong table. There are 95 acres of conserved farmland and woods to explore, including a walking trail to the magnificent white oak tree, wetlands and beaver dam. The adjacent fields are leased to a local farmer who annually plants hay or corn. Care must be taken not to damage his crops. In the winter, guests are encouraged to bring cross country skis and snowshoes.
All the other outbuildings—Corn Crib, large former Hay Barn, and little Milk House—are used solely for storage, but add to the picturesque setting viewed from inside and outside the house. 
Parking
There is ample parking space for multiple cars in addition to the two-car Garage.
Guest Interaction
I live just a couple of miles from the White Oak House and am available at all times if guests have any questions. I often make arrangements to greet new guests soon after they arrive to offer further details about the house and area, if they are interested. There is a caretaker who mows the lawn, empties the garbage cans on a weekly basis and clears the driveway of snow when needed. He is also available if any maintenance issues arise.
Suitability & Safety
The house is equipped with fire extinguishers, carbon monoxide detectors, smoke detectors and first aid kits; Pets welcome for an additional charge; No smoking; Not handicapped accessible
Local attractions
Golf; Boating; Biking; Shopping; Skiing; Horseback riding; Wildlife viewing; Fishing; Antiquing; Hiking; Sledding/tubing; Museums—visit the Area Attractions page for more details.
Reservations / Questions
For booking assistance or questions, call Constance Kheel at 917-533-4141 or send a message.

"Constance is a great host! So kind, attentive, and flexible. All her directions are very organized which makes everything very worry free and easy. The area is super quiet, quaint and very beautiful. The house is extremely comfortable, spacious, and very organized. Many local restaurants and facilities nearby that make the whole experience very fun and wholesome!" — Nikeyu, February 2019
Book a Reservation / Contact the Owner
For booking assistance or questions, call Constance Kheel at 917-533-4141 or send a message.